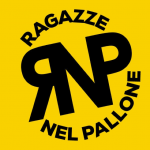 ملخص
Ragazze nel Pallone | largest women's sports festival in Italy | over 600 athletes from all over the country | also known at European level
الوصف
The festival is an event of national scope and in the process of expansion at European level that consists of three days sports and all-female events. Last year it welcomed a thousand people, 600 athletes from national teams and some European and prominent figures known in the sports world.
The goal of our events is to promote the active participation of women in the world of sport, increase the awareness of society on the important role that the female gender has within the sports field: this starting from the great success of the Italian women's national football team and ranging in all the other realities where our female athletes are winners! The 2022 edition of Ragazze nel Pallone will be held in Padua from the 8th of July until the 10th of July as well as an event dedicated to sports on the sand on the 23rd of July.
Our sports festival has reached its 14th edition with an exponential and positive growth, and we would like to have you by our side when we continue to walk this path. We are looking for the support of companies that share our values and objectives, the same that have pushed us to achieve the current results: that is, to be the largest women's sporting event in Italy. The mission of the next 5 years is to become one of the largest sporting events at European level.
We strongly believe that it is an opportunity for sponsors to support our athletes. Not only to promote the brand, push products, advice, stock the booth that will be shown at the event and promote their reality, but above all have the opportunity to support a dynamic and ethically important initiative.

If the mission of getting more girls into ball sports has interested you, you can find attached a first series of useful information to deepen the numbers and opportunities of RNP.
This initiative is aimed at raising awareness of various social issues including the growing role that women's sport is acquiring in recent years, I believe that our reality is dynamic and rich in values.

الراعي المفضل لدينا
A dynamic sposor, rich in proactive values, who shares our mission. We need fresh, innovative collaborations with which we can evolve a phenomenon that needs visibility.
الوصول / الروابط
المعلومات الهامة للرعاة
website: https://www.ragazzenelpallone.it/
Facebook:
Instagram:
https://www.instagram.com/ragazzenelpallone/
اللغات
هذا الملف الشخصي متاح باللغات التالية:
Fancybox.bind("[data-fancybox]", { // Your custom options });