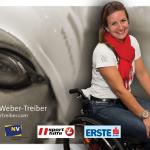 Summary
If you don't just see the edge of the pool, but also passion and enthusiasm and want to swim to new shores, you are the right partner.
Description
Once an athlete, always an athlete - no matter what paths or crossroads life has in store for you. This was also the case for me. Even with a cross-section, my ambition can't be stopped and only 3 years after my Day X, I was competing in my first Paralympics. Obstacles are created in the mind and only the post is abandoned. Following this motto, I have been swimming in the Paralympic circus for 7 years now, between my job and my family, all the way to Rio, where I made it to the final. I am a passionate swimmer, who enjoys performance, success and the feeling of having achieved something. But always striving for new goals, new shores - to be unhindered and achieve the optimum despite my disability.
Reach / Links
Greatest successes
2012 - Paralympics London 4th place 100m breaststroke
2014 - European Championships Eindhoven 2nd place 100m breaststroke
2016 - Paralympics Rio - Finalist
Key figures for sponsors
That is what characterises me and my way of life and my joy of living.
My curriculum vitae
Born 19.01.1979 in Vienna
Married to Peter
2 children: Otto born 2007, Luisa born 2013
Education/ Profession: HTL Möding - Dept. of Precision Engineering - Graduated 1999
extra-occupational studies - FH Wiener Neustadt - business consulting professions (focus: business accounting/auditing and market communication/sales)
1999-2001: Sales representative - Indukont Antriebstechnik
2001-2005: Sales representative - Low Voltage - Isovolta AG
Since 2005: Customer consultant - commerce/freelance professions- Erste Bank