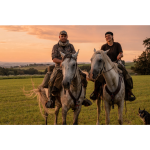 Kurzbeschreibung
Alongside my partner I am about to complete a 4000km adventure ride around the European Alps before attempting to ride from Germany to Singapore on a pair of Arabian horses. We ride completely self contained and unsupported without a pack horse.
Beschreibung
Sponsorship would make it possible for us to focus full time on our riding and production of both documentary films as well as the writing of our books and social media content. But, the most important reason to sponsor us would be to be a part of something amazing and very unique. Horseback travel is rarely done over any great distance, and most people that do travel this way do it with a pack horse and travel very slowly as a result. My partner and I travel as people have for thousands of years on a single horse each and as a result it attracts a lot of interest for many reasons. We have already completed a crossing from Mongolia to Germany so we are not only experienced, but we have equiped ourselves with the best gear on earth, most of which we had to hand make ourselves. Our costs are also very low, and we have no intentions of getting rich from our adventures which last months at a time and reach a huge number of people both in person and via media and social media.
Unser idealer Sponsor
We have a perfect clothing sponsor and our equestrian gear is all hand made by us due to the imposible demands we place on items we use. As a result we are looking mainly for finacial support so that we can focus on riding and film production, and are also seeking any support we can recive in the form of electronic equipment to help with film production. We are also seeking sponsorship in the form of high quality boots suitable for hiking.
Verwendungszweck
We are happy to provide reviews of gear, advertising photographs as well as being happy to negotiate any form of deal that is mutually benificial for both us and a sponsor.
Reichweiten / Links
Kennzahlen für Sponsoren
We have few social media followers compared to a lot of people in the equestrian industry, but what we do have is interaction with the ones we have. So many people "pay" for their sponsors, we haven't, and everyone that follows us does so by word of mouth only and we chose to first build our credibility and content, before growing followers. We have a good reach via our three books on our adventures, and are currently filming a feature length documentary on the mental health benefits of living wild and free rather than as part of society while conforming to social expectations and norms. We hope to reach a very large audience with this, and we are regularly on TV along our journey as we draw attention wherever we go. We have a well established website www.beprofessionallookcool.com as well as YouTube, Facebook and Instagram.
Fancybox.bind("[data-fancybox]", { // Your custom options });